Queen Of Wands Tarot Card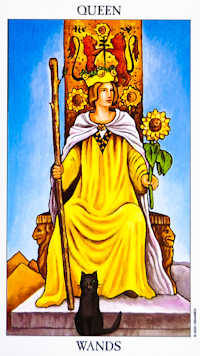 Queen of Wands. The Queen holds the wand of live power in her right hand; the sunflower which always turns to face the Sun is in her left hand. The sunflower refers to the Leo decan of Aries. The black cat in front of her throne represents clairvoyant powers. The two lions on the backdrop and the carved lions on her throne again suggest Leo and also bring in key 8, Strength. The triple peaks in the background depict attainment on three planes of consciousness.
---
Tarot cards came long after the playing cards deck, in 15th century. While playing cards were used in games, Tarot were designed for Psychic readings only. Each Tarot card tells a story about you and your future and past. When you are reading tarot cards, you are connecting with universe on a deep, psychic level, where shadows fall in the dark.