King Of Pentacles Tarot Card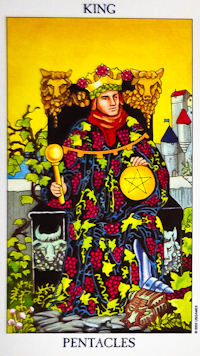 The King is dressed in a robe decorated with grapes; they symbolize fruitfulness and plenty. The Taurean symbols decorating the throne indicate money, possessions and material gifts. The buildings shown are not merely houses but are castles of substantial size. Luxury is also evident in the heavy carving adorning the throne, and the golden crown topped with a wreath of roses, the symbol of elevated desires. Since the roses are on top of the crown, at the highest point of the figure, they indicate that the desires have been fulfilled. The mace in the king's right hand is a symbol of authority and power. The golden pentacle in the left hand shows an ability to handle money wisely.
---
Tarot cards came long after the playing cards deck, in 15th century. While playing cards were used in games, Tarot were designed for Psychic readings only. Each Tarot card tells a story about you and your future and past. When you are reading tarot cards, you are connecting with universe on a deep, psychic level, where shadows fall in the dark.