Queen Of Swords Tarot Card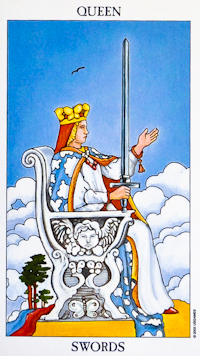 Queen of Swords. The queen sits on a throne decorated with butterflies, symbols of incarnation and reincarnation. She holds the active sword raised to discriminate between true and false. Her left hand is extended toward the unknown future, but she is ready to face whatever comes. She knows she has experience as her foundation, and she can draw upon that. Although the Sun is obscured by clouds, denoting that more is to be revealed, she is confident of the future. The waxing and waning moons on her throne show changing conditions. She leans on divine protection, symbolized by cherubs on the throne. Her throne is set high where the air is pure and uncontaminated by the sordid side of life. The single bird overhead indicates the solitude she has chosen because her wisdom sets her apart.
---
Tarot cards came long after the playing cards deck, in 15th century. While playing cards were used in games, Tarot were designed for Psychic readings only. Each Tarot card tells a story about you and your future and past. When you are reading tarot cards, you are connecting with universe on a deep, psychic level, where shadows fall in the dark.