King Of Cups Tarot Card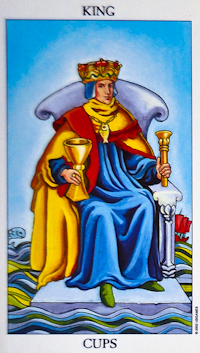 King of Cups. The King carries both the scepter of power and the upright cup of controlled emotion. His throne, floating on water, represents the idea that his subconscious sustains him. The leaping fish on one side and the fish on the chain around his neck show his involvement in spiritual matters. The ship depicts his involvement in the world of commerce. He is the lord of wisdom and commerce because of his wise use of emotions.
---
Tarot cards came long after the playing cards deck, in 15th century. While playing cards were used in games, Tarot were designed for Psychic readings only. Each Tarot card tells a story about you and your future and past. When you are reading tarot cards, you are connecting with universe on a deep, psychic level, where shadows fall in the dark.