Knight Of Pentacles Tarot Card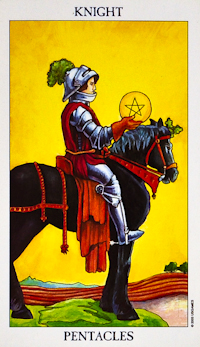 The Knight is pictured riding a work horse. He is contemplating work well done while at the same time planning a course of action before he starts again. He considers the situation calmly to decide on the wisest moves. His weapon is money; he knows that a wise investment means power on the material plane. His helmet and the bridle of his horse are decorated with the leaves of the grapevine, symbolizing fruitfulness. The field ahead is an open plan, showing cultivation to be done as seasons come and go.
---
Tarot cards came long after the playing cards deck, in 15th century. While playing cards were used in games, Tarot were designed for Psychic readings only. Each Tarot card tells a story about you and your future and past. When you are reading tarot cards, you are connecting with universe on a deep, psychic level, where shadows fall in the dark.