Nine Of Wands Tarot Card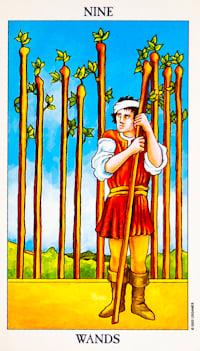 Eight firmly planted wands make a fence between the figure and the outer world. The ninth wand is held in readiness for use if necessary. This is a picture of strength and latent power, both physical and spiritual. It implies inherited strength for work well done in the past.
---
Tarot cards came long after the playing cards deck, in 15th century. While playing cards were used in games, Tarot were designed for Psychic readings only. Each Tarot card tells a story about you and your future and past. When you are reading tarot cards, you are connecting with universe on a deep, psychic level, where shadows fall in the dark.