Knight Of Cups Tarot Card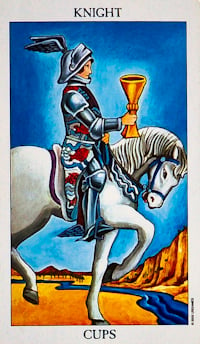 Knight of Cups. Both Knight and horse are gentle and unhurried. The Knight approaches calmly with a cup of affection held out as an offering to humanity. His robe is decorated with the divine fish symbol. The stream, running serenely through the valley, depicts the Knight's calm emotional attitude. The entire picture is one of peace and contentment.
---
Tarot cards came long after the playing cards deck, in 15th century. While playing cards were used in games, Tarot were designed for Psychic readings only. Each Tarot card tells a story about you and your future and past. When you are reading tarot cards, you are connecting with universe on a deep, psychic level, where shadows fall in the dark.