Page Of Pentacles Tarot Card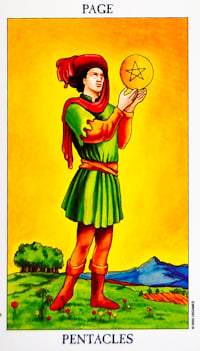 The Page holds the pentacle lightly, with nonchalance. On the outer surface, he appears calm while within there is great care and concern that the right choices are made. The mountain of attainment is in the background. The flowers in the foreground show that the attention now is on the immediate future. The Page is nevertheless aware of the goal to be reached in the distant future.
---
Tarot cards came long after the playing cards deck, in 15th century. While playing cards were used in games, Tarot were designed for Psychic readings only. Each Tarot card tells a story about you and your future and past. When you are reading tarot cards, you are connecting with universe on a deep, psychic level, where shadows fall in the dark.