Eight Of Swords Tarot Card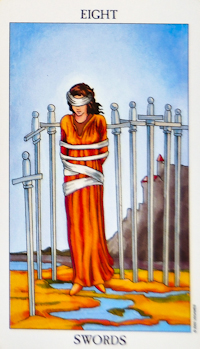 Although the figure is bound and blindfolded, she has found an opening through the barrier of swords (crosses). She travels the pathway of water, showing the power of the subconscious mind that is always symbolized by water in the Tarot. The castles in the background show substantial past accomplishments.
---
Tarot cards came long after the playing cards deck, in 15th century. While playing cards were used in games, Tarot were designed for Psychic readings only. Each Tarot card tells a story about you and your future and past. When you are reading tarot cards, you are connecting with universe on a deep, psychic level, where shadows fall in the dark.