Temperance Tarot Card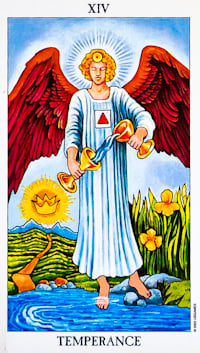 Key 14 Temperance. The keyword corresponding to this card is sustenance or establishment. You should establish the foundations of your belief system through proof or verification. The keywords verification and wrath show that the desire to find the truth surfaces from within, through wrath (not temper, but strong and stern anger). This process tempers one's soul, just as steel is tempered. We become balanced by choosing the middle path between the extremes of action.
Sagittarius rules key 14. The arrow of concentration of the fiery life force brings about the manifestation of the higher ideals, which leads to elevated states of consciousness.
The androgynous angel is a perfect blending of polar-opposites, of male and female. It is an angel of the Sun, the life force, as shown by the solar disk on the forehead. The red wings depict the fiery nature aspiring to higher consciousness.
The pool and the earth represent the subconscious and conscious minds, on which the angel maintains a perfect balance. The mountain peaks symbolize attainment of wisdom and understanding. The crown in glory over them represents the culmination of the great
work.
This key teaches you to verify your destiny as a manipulator of the life power, the Kundalini. This should be verified by actual practice and testing until you feel the presence within.
---
Tarot cards came long after the playing cards deck, in 15th century. While playing cards were used in games, Tarot were designed for Psychic readings only. Each Tarot card tells a story about you and your future and past. When you are reading tarot cards, you are connecting with universe on a deep, psychic level, where shadows fall in the dark.