Three of Clubs Karma Card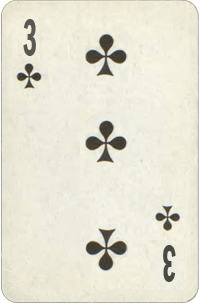 Three of Clubs Karma Card suggests the intellectual creativity and versatility. You are likely to have many interests or be involved in the pursuit of knowledge. This card is an indicator of a gift with words, whether through presenting your ideas or writing. As a positive 3, you will be fortunate in speculative matters, investing, gambling and taking chances in general. You will have many lucky opportunities with your friends, who are most eager to assist you in every way. Your luck is derived from your positive, outgoing attitude, which induces people to want to help you. You should avoid occupations that keep you confined in close quarters or demand long hours of isolation because you need to move around and express yourself to do your best work and be happy.
A negative Three of Clubs does everything in a big way-eating, drinking, loving and living. You can be too self-indulgent, and extravagance could be your downfall. You tend to overact and exaggerate situations, turning mole-hill problems into mountains. Friendships will then be superficial. You may try to avoid responsibility and live just for a moment. Too much talk may make you a gossip.
Learn not to spread yourself too thin, which is a natural trap to fall into, with your many talents and interests. You should master at least one skill.

"Monsters are real, and ghosts are real too. They live inside us, and sometimes, they win." -

Stephen King
In topics:
real
|
inside
|
Lovers Quotes
|
Three of Clubs Quotes
|
---