King of Diamonds Karma Cousin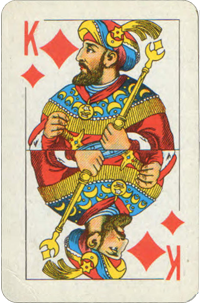 The King of Diamonds as a Karma Cousin gives a business acumen and the impetus to attain your goals and achieve prosperity. It can motivate you to take a leadership position but don't be bossy as it will undermine your authority. Men in Diamond's suit can help you to start your own business and invest in your ideas.
I'm just glad I was able to return to some of that innocence and beauty I had as a child when I started my own family, and my children brought me back some of that spirit.
- Angelina Jolie