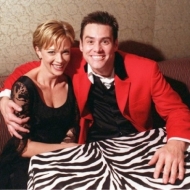 Lauren Holly
and
Jim Carrey
were married for about one year. During a stay at L.A.'s Hotel Bel-Air in May, the famously madcap comedian lapsed into a blue Sinatra funk and spent a long, bizarre evening at the bar crooning ballads and tipping the piano player. Was the actor expressing his unhappiness over rumors that Holly was involved with Ed Burns, the director and costar of her upcoming film Long Time, Nothing New? For that matter, why wasn't Carrey sleeping at the couple's $4.2 million Brentwood home?
Question No. 2 at least can be answered: The interiors were being gutted and redesigned. But the house's inhabitants stood on very quick sand. On July 29, Holly, 31, called an end to 10 months of tumultuous marriage—and a one-month separation—by filing for divorce. (She is asking for a yet-unnamed amount in spousal support.) The former Picket Fences star has moved to Malibu, where she reportedly pals around with Madonna and Courtney Love; Carrey, 35, says one source, has been seeking solace from buddy Nicolas Cage.
From the beginning the couple, who had fallen in love on the set of '94's Dumb & Dumber—both soon after leaving a first marriage—had a hard time staying on track. After at least one breakup, they finally swapped I dos last fall. When Carrey was shooting The Truman Show in Seaside, Fla., this year, Holly visited often. "They seemed very much in love," says Beth Folta, a production liaison for the film. "They seemed like newlyweds." Carrey sounded blissful. "Marriage has a calming effect on me," he said.
But every calm, it seems, precedes a storm. While some blame the break on his temper ("I do have those moments where I'll throw a glass against the wall") and others point to Burns (who has denied being anything other than friends with Holly), still others say plain old career competition got in the way. With her last movie, Turbulence, having nose-dived at the box office, Holly may have gotten tired of living in her husband's shadow. Says an insider: "She wanted to prove she could go out on her own." These days that's exactly what she's doing.