Eight of Hearts Karma Cousin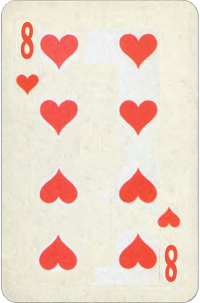 The Eight of Heart can be called the power of love. As a Karma cousin, It gives the Seven of Spades people additional power, so enduring and idealistic love is no more denied them than is money. It makes the Seven Of Spades person very powerful and competent, and often puts them in leadership position, unless their Karma is too heavy.
If you want to be happy, set a goal that commands your thoughts, liberates your energy, and inspires your hopes.
- Andrew Carnegie