Ace of Hearts Karma Cousin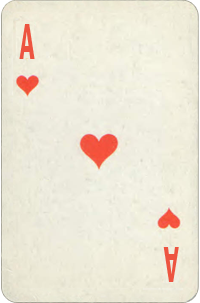 Your rightful place is found through higher guidance and the cultivation of intuition. Emotions play a large part, and it becomes a race between love and money. One - not both - must win first place, so if love becomes absorbing, money flies out of the window - and vice versa. You possess powerful emotions and a strong need for love combine well to ensure you are often more than willing to give others the goodness of your heart.
You are the masterpiece of your own life; you are the Michelangelo of your experience. The David that you are sculpting is you. And you do it with your thoughts.
- Joe Vitale