Nine of Spades Karma Card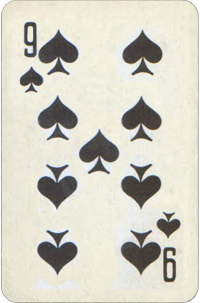 Divine will begin to operate in man and activate him to a manifestation of his spiritual awareness. Sacrifice for this end belongs to the pattern of all Six of Spades because its Karma card is the Nine of Spades - a number that is the symbol of selflessness and universality - so we may not look for much satisfaction in a life lived on personal levels. The Nine of Spades symbolizes the sublimation of emotions as the ability to control socially unacceptable impulses or idealizations consciously, and to transform them into socially acceptable action or behavior possibly resulting in a long-term conversion of the initial impulse. The prime objective here is the efficient handling of a conflict between the need for satisfaction and the need for security without perturbation of awareness. Growth comes through impersonality.
The number 9 is one of the most beautiful and protected numbers in the cycle. Ancient philosophers thought that there are only two real numbers, the number 1 and the number 9, the start and the end. Everything in between is an illusion. Because we have chosen illusion for truth, the distorted plan, Nine always means frustration or futility when it appears in the Mundane spread. God's plan is fulfilled. For the Six of Spades, the Nine as a karma card means fulfillment of the purpose and mission - the universal love, brotherhood, and unfailing good will. In these, there can be no disappointment.