Five of Clubs Birth Card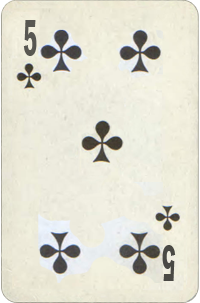 Fives represent Changes, Variety, Opportunity, Travel, Escape and fluctuating Life Experience. Five of Clubs are restless in the mental field.
Five of Clubs combine a desire for changes and new experiences with the power of the mind. Restless, seeking, trying to find the answer to millions of questions running through their head, they can't be happy with monotonous lifestyle. Five Of Clubs need constant movement and travel; sometimes they are too impulsive to stop, look and listen. They are regularly meeting with obstacles, and never know quite well what to do with it. They want movement and travel - eager to go anywhere rather than remain where they are. The mistake they made is dashing off on impulse, refusing to plan or count the cost.
Five of Clubs have a flexible mind, natural curiosity, variety of interests and many talents and abilities and as any Club, they need sound knowledge to be successful in life. Five Of Clubs have the natural inclination for the excellent education, and when they stop learning just for the sake of learning and start applying what they have learned in practice, success is guaranteed.
Not often well suited for marriage, the desire to have a family is there, and the experiment usually made. In marriage, they are apt to be secret jealousies and suspicions, as well as a change in their feelings.
In childhood most Five of Clubs experience insecurity in family finances. They may find it difficult to make financial decisions, but in reality, they have spectacular potential to make money. If they enjoy all things money can buy, there is a good chance they'll be able to enjoy themselves. Of course, using the sound advice of someone they can trust in finances is always a good idea.
Five of Clubs like to remain their personal life a mystery. They might be secretive about their plans, hopes, and friends. Should watch out for jealousy, and remember that it works both ways. Five Of Clubs are not likely to be a part of traditional religion, but there is a good possibility they can become interested in spiritual and philosophical studies, and this will undoubtedly be the best thing they can do for themselves - to fulfill their restless nature by acquiring the higher purpose.
Even Five Of Clubs are not likely to search for people and situations involving personal sacrifice, but they want to be right sports and companions, and when asked for support, there is no chance they will avoid the responsibility, even when it is not theirs.
They might be skeptical about any spiritual knowledge, but there is a spiritual giant in this card that might come out in their middle age. If it does, following this road will help Five Of Clubs to control their strong and impulsive emotions.
Peace of mind comes from a willingness to accept life as it must be lived - constructively.

"If you have a certain wildness of spirit, a cabinet maker's workshop is not the place to express it." -

Daniel Day Lewis
In topics:
have
|
spirit
|
place
|
wildness
|
cabinet
|
workshop
|
express
|
Magician Quotes
|
Five of Clubs Quotes
|
---