Four of Spades Birth Card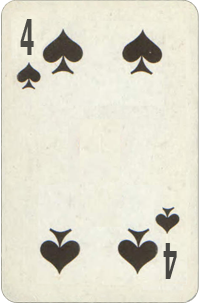 Out of all birthday, Four (4) are among the most fortunate. It gives them a wonderful start - with protection, security, sufficiency, but like with any other card how we use our potential is what creates our success in life. Four of Spades are builders and foundation of Wisdom. Four is also a number of the Emperor. Fours must be in command of every situation that arises. They are dealing with practical applications of knowledge, and they the power to glorify it.
Being Four Of Spades means to be one of the most fortunate cards in the deck! Four of Spades combines the most treasured qualities we enjoy in life - good health, talent, and just plain luck. That will include a significant amount of efforts on their part, but the amount of success and prestige it brings is well worth it. Working in large enterprises and organizations is very beneficial. They enjoy working in a good team.
Four of Spades are independent thinkers. Don't try to persuade them to any course, because they are ones who know what to do. They are their critics and guides. Once they learn who they are - there is no interference from anything or anyone they will accept. Four of Spades can learn and apply their knowledge very well to any work. Through work, completeness and satisfaction can be attained, and all Four of Spades know that it takes a constant application to keep the success in hands.
Four of Spades are very social. Often, they are raised in a good-hearted family and cultivate the ability to keep contacts that become the critical factor in the future success. They naturally gravitate to people of wealth and good background. Even ambitions for a good marriage can be a part of the quest for security and prestige.
For the Four of Spades, there is no indication of having any problems for extended periods. It doesn't mean however that there will be no problems at all. All Sixes will be tested through their lives on awareness of their destiny in Spades - to work with hands and hearts and minds, for the WISDOM that is God.
"I do not trust people who don't love themselves and yet tell me, "I love you." There is an African saying which is: Be careful when a naked person offers you a shirt." -

Maya Angelou
In topics:
people
|
love
|
trust
|
person
|
tell
|
african
|
saying
|
shirt
|
Magician Quotes
|
Four of Spades Quotes
|
---