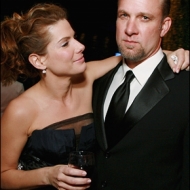 Sandra Bullock
and
Jesse James
were married for 5 years (from 2005 to 2010). Bullock married motorcycle builder and Monster Garage host Jesse James on July 16, 2005. They first met when Bullock arranged for her ten-year-old godson to meet James as a Christmas present. In November 2009, Bullock and James entered into a custody battle with James' second ex-wife, former pornographic actress Janine Lindemulder, with whom James had a child. Bullock and James subsequently won full legal custody of James' five-year-old daughter.
Bullock at the 2010 Golden Raspberry Awards accepting her Razzie for "Worst Actress" for All About Steve In March 2010, a scandal arose when several women claimed to have had affairs with James during his marriage to Bullock. Bullock cancelled European promotional appearances for The Blind Side citing "unforeseen personal reasons". On March 18, 2010, James responded to the rumors of infidelity by issuing a public apology to Bullock. He stated, "The vast majority of the allegations reported are untrue and unfounded" and "Beyond that, I will not dignify these private matters with any further public comment." James declared that "There is only one person to blame for this whole situation, and that is me", and asked that his wife and children one day "find it in their hearts to forgive me" for their current "pain and embarrassment". James' publicist subsequently announced on March 30, 2010, that James had checked into a rehab facility "to deal with personal issues" and "save his marriage" to Bullock. However on April 28, 2010, it was reported that Bullock had filed for divorce on April 23 in Austin. Their divorce was finalized on June 28, 2010, with "conflict of personalities" cited as the reason.
Bullock announced on April 28, 2010, that she had proceeded with plans to adopt a baby boy born in January 2010 in New Orleans. Bullock and James had begun an initial adoption process four years earlier. The child began living with them in January 2010, but they chose to keep the news private until after the Oscars in March 2010. However, given the couple's separation and then divorce, Bullock continued the adoption of the baby, named Louis Bardo Bullock, as a single parent.