LOVE TEST
When I do a personal reading, I always consider multiple systems to evaluate the strengths and weaknesses of relationships. Every relationship is a mixture of two unique personalities, two inpidual vibrations, and if we don't know how to play this music, any attempt is likely to be disastrous to our ears and nerves. We are all equally capable of harmonies and discords, but, unlike manufactured instruments, we cannot remain mute and inexpressive. Each of us plays our inpidual key, tone, and rhythm. Playing in a jam takes some practice.
Read More...
LOVE COMPATIBILITY
|
RELATIONSHIPS
|
DESTINY CARDS
|
DATING
|
MARRIAGE
|
NUMEROLOGY
Love Calculator is the fun way to get an idea how compatible you are with your partner. Most people do not realize how accurate the results of love calculations can be if it is built on knowledge beyond the science of relationship. But unfortunately, most love calculators online are products of computer geniuses, which makes the entire experience amusing and pointless. And yet, we crave for clear answers. We want to know if someone we love feels the same about us. We are looking for someone to confirm our intuition.
Read More...
LOVE COMPATIBILITY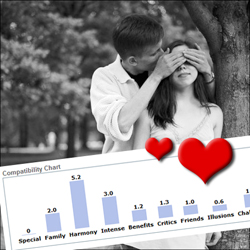 Love compatibility chart is the best way to see how your relationship works. Do you have special connections? Is there a chance to build a long-lasting relationship? Are you in out-of-box relationships? How prosperous your relationship are? Is it a sexual attraction or hidden obsession? Love compatibility chart is an excellent preview of feelings and attitudes created by you and your partner. You may think you are perfect for each other. You may enjoy same interests; you may come from similar backgrounds. You may fall in love from a first sight, or date for several years.
Read More...
LOVE COMPATIBILITY
|
NUMEROLOGY
Showing Posts 1 - 3 of 3
Enter Your Birthday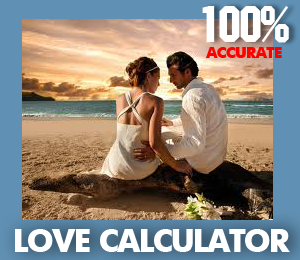 I work very hard, but when God opens that door for you - when life opens that door for you, I should say - I think it's important to be giving, to return the love back.
- Lady Gaga
People Saying
yassssssssssssss
April 21, 2017 5:47
I love this :)
April 20, 2017 22:34
Very nice . I like it and i am very happy to have a name like shumaila
April 20, 2017 16:26
My middle name is Sierra <3
April 19, 2017 23:01
That's me
April 19, 2017 20:33
My cousin is named chelsy and this is so her
April 19, 2017 19:17
This is so me
April 19, 2017 19:16
100 % true except for the "feeling incomplete without someone part." that might have been true once upon a time.
April 19, 2017 17:25
My daughter's middle name is Maurice.
April 19, 2017 14:46
Pankaj Kuma
April 19, 2017 13:26
Topics
Astrology
Celebrities
Culture
Dating
Destiny Cards
Gossip & Rumors
Lifestyle
Love Compatibility
Marriage
Numerology
Phenomenon
Psychology
Questions & Answers
Relationships
Science & Tech
Society
Useful Tips
World
Love Tests
Personality Tests
Astrology
Destiny Cards
Numerology