Renee Zellweger & Kenny Chesney
Renee Zellweger: April 25, 1969
Renee Zellweger

Commitment Index: 4.2

Leadership:

Birth Card

Ruler

Karma Card

Karma Cousin
Kenny Chesney: March 26, 1968
Kenny Chesney

Commitment Index: 2.5

Leadership:
Birth Card

Ruler

Karma Card

Karma Cousin
Total Connections Found: 21
Attraction index: 3.58
Intensity index: 1.38
Compatibility: 3.23
Attraction & Intensity
Attraction Index
tells how much attraction you experience in your communications.
Intensity Index
represents challenges. Further investigation of links between two of you tells what areas of your life are affected. It might be associated with an intense sexual life, desire to dominate one another, criticism or deep contradictions in beliefs and lifestyles. It may come as a surprise to have long-term relationships with high-intensity index, but it can happen.
People who have more than 15 links found between them have their scores higher than someone with five connections or less. These scores are interesting mostly from a step-point of their relatedness. Relationships with the higher Attraction and the lower Intensity score have more chances to last longer and bring positive energy and mutual understanding. The prevalence of intense connections between people usually leads to break-ups and challenging experiences. If you research your personal relationships in depth, you will discover your very own Attraction and Intensity Scores that you feels comfortable to you.
Compatibility Chart
What Is the Nine of Clubs Birth Card Mean?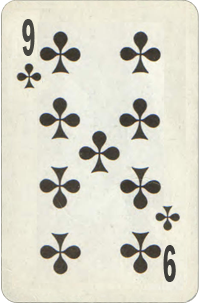 The Nine of Clubs people are warm and friendly with a keen sense of responsibility. They keep promises and pay debts. They are adventurers. They are willing to take a chance for the satisfaction of curiosity or interest. Their intellectual gift, quick-mind and originality allow them to create solutions to problems that others consider unsolvable. They have a genius for thinking in broad terms and may take it to extremes and produce fruits of benefit for the whole humanity. Emotional balance is important for them. They need stability to control their dynamic energy and achieve success. The less they express through their personality, the surer their fulfillment.
What Is the Ten of Clubs Birth Card Mean?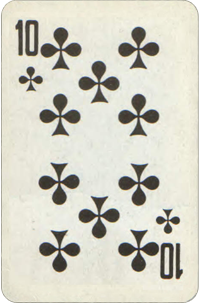 The of Clubs are a clear-sighted intellectuals with the ability to assess circumstances easily and accurately. They are ambitious, independent and royal, proud and socially aware. Social status and recognition is important to them, and they have all means to achieve anything they want in life. Their success lies in the mental field. When their goals are high, their needs are supplied from the limitless substance, and there is no lack of supply. They are given power through higher wisdom. Once they unfold their intuitive potential, choices in life are made without a doubt, and success follows naturally. They are drawn toward intellectually developed friends, and extremely selective in their choice of potential mates. This is a royal card. They run for a higher score, and they expect their partners to match their expectations.
Renee Zellweger
and
Kenny Chesney
were married for less than one year. On May 9, 2005, Kenny Chesney married actress Renee Zellweger in a ceremony on the island of St. John. They had met in January at a tsunami relief benefit concert. On September 15 of that same year, after only four months of marriage, they announced their plans for an annulment. Zellweger cited fraud as the reason in the related papers leading to rumors that Chesney might be homosexual. After media scrutiny of her use of the word "fraud", she qualified the use of the term, stating it was "simply legal language and not a reflection of Kenny's character" while Chesney refuted the rumors, affirming that he is straight. Chesney later suggested the failure of his marriage was due to "panic" from the intense media scrutiny surrounding it. In an interview by 60 Minutes with Anderson Cooper, Chesney commented on the failed marriage. "The only fraud that was committed was me thinking that I knew what it was like…that I really understood what it was like to be married, and I really didn't." The annulment was finalized in late December 2005.
Create Your Own Celebrity Report!
Connections: Life vs. Spiritual
The higher percentage of Spiritual Connections (connections from a spiritual spread) means that you have share previous life experiences together. When the percentage of your Mundane Connections is significantly higher, you have met someone new. Spiritual connections benefit our inner selves stronger than life connections, and whatever critical and challenging issues they may represent, your experience will be smoother and less traumatic.
Forward, Reverse and Mutual Connections
You can see from the chart who is more affected by your interaction. The one with a higher percentage of forward connections is investing more energy and thoughts into relationship. If you have a higher percentage of reverse connections, your partner pays more attention to you and you are perceiving his or her feelings and emotions. Mutual connections work in both directions. Having high mutual connection's percentage means you have very strong bond between two of you and are interested in each other in the same degree.
Create your own Love compatibility report. What you see in this example is just a little part of information you will get with your order. But you can see how the story starts, and sometimes you can see how it ends. Fate? Destiny? Would your rather go with FREE WILL? Or maybe Free Will comes from True Knowledge?