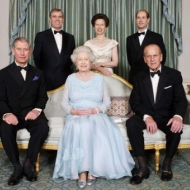 Queen Elizabeth II
and
Prince Philip
are married since 1947. Elizabeth met her future husband, Prince Philip of Greece and Denmark, in 1934 and 1937. They are second cousins once removed through King Christian IX of Denmark and third cousins through Queen Victoria. After another meeting at the Royal Naval College in Dartmouth in July 1939, Elizabeth—though only 13 years old—said she fell in love with Philip and they began to exchange letters. Their engagement was officially announced on 9 July 1947.
The engagement was not without controversy: Philip had no financial standing, was foreign-born (though a British subject who had served in the Royal Navy during the Second World War), and had sisters who had married German noblemen with Nazi links. Marion Crawford wrote, "Some of the King's advisors did not think him good enough for her. He was a prince without a home or kingdom. Some of the papers played long and loud tunes on the string of Philip's foreign origin." Elizabeth's mother was reported, in later biographies, to have opposed the union initially, even dubbing Philip "The Hun". In later life, however, she told biographer Tim Heald that Philip was "an English gentleman".
Before the marriage, Philip renounced his Greek and Danish titles, converted from Greek Orthodoxy to Anglicanism, and adopted the style Lieutenant Philip Mountbatten, taking the surname of his mother's British family. Just before the wedding, he was created Duke of Edinburgh and granted the style His Royal Highness.
Elizabeth and Philip were married on 20 November 1947 at Westminster Abbey. They received 2500 wedding gifts from around the world. Because Britain had not yet completely recovered from the devastation of the war, Elizabeth required ration coupons to buy the material for her gown, which was designed by Norman Hartnell. In post-war Britain, it was not acceptable for the Duke of Edinburgh's German relations, including his three surviving sisters, to be invited to the wedding. The Duke of Windsor, formerly King Edward VIII, was not invited.