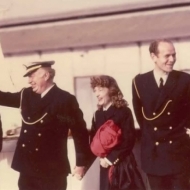 Mary Sue Hubbard
and
L Ron Hubbard
are married since 1952. By 1954, Mary Sue had become a key figure within the nascent Scientology movement. Although Ron Hubbard himself was much admired by Scientologists, his wife was said to be much less popular. Russell Miller notes:
They were indeed an unlikely couple – a flamboyant, fast-talking extrovert entrepreneur in his forties and a quiet, intense young woman twenty years his junior from a small town in Texas. But anyone who underestimated Mary Sue made a big mistake. Although she was not yet twenty-four years old, she exercised considerable power within the Scientology movement and people around Hubbard quickly learned to be wary of her. Fiercely loyal to her husband, brusque and autocratic, she could be a dangerous enemy.
A family friend, Ray Kemp, later recalled: "Their relationship seemed OK, but there never seemed to be a lot of love between them. She was not the affectionate type, she was more efficient than affectionate. They used to have fierce husband and wife domestic arguments." Joan Vidal, a friend of the sculptor Edward Harris, who was commissioned by Hubbard to create a bust of him, described Mary Sue as "a rather drab, mousy, nothing sort of person quite a bit younger than him." Ken Urquhart, who worked for the Hubbards as their butler in the 1960s, commented that Mary Sue "could be very sweet and loving, but also very cold." Cyril Vosper, one of the Saint Hill staff at the time, noted the differing impressions left by the Hubbards: "I always had great warmth and admiration for Ron – he was a remarkable individual, a constant source of new information and ideas – but I thought Mary Sue was an exceedingly nasty person. She was a bitch."