George Clooney & Elisabetta Canalis
George Clooney: May 6, 1961
George Clooney

Commitment Index: 5

Leadership:

Birth Card

Ruler
Karma Card

Karma Cousin
Elisabetta Canalis: September 12, 1978
Elisabetta Canalis

Commitment Index: 6.2

Leadership:

Birth Card

Ruler

Karma Card

Karma Cousin
Total Connections Found: 26
Attraction index: 3
Intensity index: 1.94
Compatibility: 1.84
Attraction & Intensity
Attraction Index
tells how much attraction you experience in your communications.
Intensity Index
represents challenges. Further investigation of links between two of you tells what areas of your life are affected. It might be associated with an intense sexual life, desire to dominate one another, criticism or deep contradictions in beliefs and lifestyles. It may come as a surprise to have long-term relationships with high-intensity index, but it can happen.
People who have more than 15 links found between them have their scores higher than someone with five connections or less. These scores are interesting mostly from a step-point of their relatedness. Relationships with the higher Attraction and the lower Intensity score have more chances to last longer and bring positive energy and mutual understanding. The prevalence of intense connections between people usually leads to break-ups and challenging experiences. If you research your personal relationships in depth, you will discover your very own Attraction and Intensity Scores that you feels comfortable to you.
Compatibility Chart
What Is the King of Diamonds Birth Card Mean?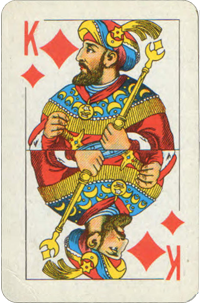 King of Diamonds are practical and know how to handle finances better than anyone else. They have strong opinions and a great deal of sound business judgment, which is always directed to practical uses. Their drive toward financial success and stability gives a way to ambition, and when not too materialistically oriented, they are successful business people who must always watch for the tendency to take their changes and gamble, just because they can afford to lose. There are always sufficient funds at their disposal. They have the power of accumulation and control, and when they act just and fair many opportunities are open up for them. They are very social and good mixers. They are friendly, charming and clever, and want their partners to shine as well. They listen to opinions of other people, but always make their own decisions. They love to bargain but always mean to be fair for both sides. They also love to travel and often profit by it.
What Is the Queen of Clubs Birth Card Mean?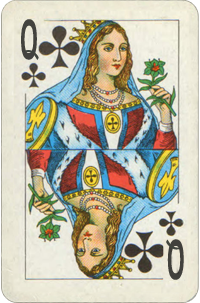 The royal Queen of Clubs brings special mission to people born under its influence. These people know that they are always in direct contact with the higher forces of Intelligence, and their work is to transcend this light onto the lives of millions. They are highly intuitive and have a good understanding of human nature. Their organizational ability puts them in charge of others. They are practical and logical intellectuals, strong of will and determination. Endowed with an exceptional business sense, they are very successful in making money. They want complete freedom of action and will not tolerate any interference. They are intolerant of ignorance and mental laziness in others, but there is no lack of sympathy or firmness in handling their tempers. Very selective about their partners, they look for someone intelligent, open-minded and well-educated.
George Clooney
and
Elisabetta Canalis
were dating for 2 years (from 2009 to 2011). Elisabetta Canalis reveals in Italian journalist Bruno Vespa's new book Questo Amore (This Love) that her relationship with one of Hollywood's biggest hunks was "more of a father-daughter relationship," which she "was unable to clarify...till now."
Canalis further "clarifies" her feelings towards Clooney as: "the person who valued my feminine side the most" and "one of the best people I have met from a charitable point of view," explaining, "he has been special for me, and very important, just as a father would be."
Canalis denied the marriage-issue rumors as the breaking point, revealing, "George and I never spoke of marriage nor of having kids...I don't put limits to the possibility of having them, but neither George nor I had ever envisaged having kids together. The end of the relationship was not caused by a marriage issue, but instead by our personal needs."
"George is a real gentleman even in his private life. I was very much respected both as a woman and partner."
Create Your Own Celebrity Report!
Connections: Life vs. Spiritual
The higher percentage of Spiritual Connections (connections from a spiritual spread) means that you have share previous life experiences together. When the percentage of your Mundane Connections is significantly higher, you have met someone new. Spiritual connections benefit our inner selves stronger than life connections, and whatever critical and challenging issues they may represent, your experience will be smoother and less traumatic.
Forward, Reverse and Mutual Connections
You can see from the chart who is more affected by your interaction. The one with a higher percentage of forward connections is investing more energy and thoughts into relationship. If you have a higher percentage of reverse connections, your partner pays more attention to you and you are perceiving his or her feelings and emotions. Mutual connections work in both directions. Having high mutual connection's percentage means you have very strong bond between two of you and are interested in each other in the same degree.
Create your own Love compatibility report. What you see in this example is just a little part of information you will get with your order. But you can see how the story starts, and sometimes you can see how it ends. Fate? Destiny? Would your rather go with FREE WILL? Or maybe Free Will comes from True Knowledge?