Angelina Jolie & Brad Pitt
Angelina Jolie: June 4, 1975
Angelina Jolie

Commitment Index: 7.2

Leadership:

Birth Card
Ruler
Karma Card

Karma Cousin
Brad Pitt: December 18, 1963
Brad Pitt

Commitment Index: 7

Leadership:

Birth Card

Ruler

Karma Card

Karma Cousin
Total Connections Found: 25
Attraction index: 4.36
Intensity index: 2.13
Compatibility: 2.56
Attraction & Intensity
Attraction Index
tells how much attraction you experience in your communications.
Intensity Index
represents challenges. Further investigation of links between two of you tells what areas of your life are affected. It might be associated with an intense sexual life, desire to dominate one another, criticism or deep contradictions in beliefs and lifestyles. It may come as a surprise to have long-term relationships with high-intensity index, but it can happen.
People who have more than 15 links found between them have their scores higher than someone with five connections or less. These scores are interesting mostly from a step-point of their relatedness. Relationships with the higher Attraction and the lower Intensity score have more chances to last longer and bring positive energy and mutual understanding. The prevalence of intense connections between people usually leads to break-ups and challenging experiences. If you research your personal relationships in depth, you will discover your very own Attraction and Intensity Scores that you feels comfortable to you.
Compatibility Chart
What Is the King of Diamonds Birth Card Mean?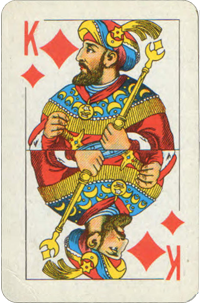 King of Diamonds are practical and know how to handle finances better than anyone else. They have strong opinions and a great deal of sound business judgment, which is always directed to practical uses. Their drive toward financial success and stability gives a way to ambition, and when not too materialistically oriented, they are successful business people who must always watch for the tendency to take their changes and gamble, just because they can afford to lose. There are always sufficient funds at their disposal. They have the power of accumulation and control, and when they act just and fair many opportunities are open up for them. They are very social and good mixers. They are friendly, charming and clever, and want their partners to shine as well. They listen to opinions of other people, but always make their own decisions. They love to bargain but always mean to be fair for both sides. They also love to travel and often profit by it.
What Is the King of Hearts Birth Card Mean?
King of Hearts present to the world kindly, friendly and charming front. They have an aura of peace, protection and safe harbor. They have a reservoir of divine love within themselves, and they know that this power of love is invincible. They have no need to fight for recognition. Others come to them for peace and guidance, needing their faith in life and in themselves. They have a deep understanding of human nature, and knowing all, they forgive it all. They are self-assured of themselves and of their principles. They are the most desirable people in the world and the most worthy of love.
Angelina Jolie
and
Brad Pitt
are married since 2006. During Pitt's divorce from Jennifer Aniston, his involvement with his Mr. & Mrs. Smith co-star Angelina Jolie attracted vigorous media attention. While Pitt denied claims of adultery, he admitted that he "fell in love" with Jolie on the set. In April 2005, one month after Aniston filed for divorce, a set of paparazzi photographs emerged showing Pitt, Jolie and her son Maddox at a beach in Kenya; the pictures were construed in the press as evidence of a relationship between Pitt and Jolie. During the summer of 2005, the two were seen together with increasing frequency, and the entertainment media dubbed the couple "Brangelina". On January 11, 2006, Jolie confirmed to People that she was pregnant with Pitt's child, thereby publicly acknowledging their relationship for the first time.
Create Your Own Celebrity Report!
Connections: Life vs. Spiritual
The higher percentage of Spiritual Connections (connections from a spiritual spread) means that you have share previous life experiences together. When the percentage of your Mundane Connections is significantly higher, you have met someone new. Spiritual connections benefit our inner selves stronger than life connections, and whatever critical and challenging issues they may represent, your experience will be smoother and less traumatic.
Forward, Reverse and Mutual Connections
You can see from the chart who is more affected by your interaction. The one with a higher percentage of forward connections is investing more energy and thoughts into relationship. If you have a higher percentage of reverse connections, your partner pays more attention to you and you are perceiving his or her feelings and emotions. Mutual connections work in both directions. Having high mutual connection's percentage means you have very strong bond between two of you and are interested in each other in the same degree.
Create your own Love compatibility report. What you see in this example is just a little part of information you will get with your order. But you can see how the story starts, and sometimes you can see how it ends. Fate? Destiny? Would your rather go with FREE WILL? Or maybe Free Will comes from True Knowledge?