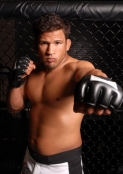 Tyson Lee Griffin Griffin currently fights as a Featherweight in the Ultimate Fighting Championship (UFC).
The 15-5 Griffin recently addressed his approach to fighting in general and why he feels "comfortable" by the challenge Palaszewski presents, explaining to MMAWeekly, "I love the striking game, I like kicking, I like punching; I like it all. I think every one of my fights I've thrown at least one low kick. At the same time you've got to be a smart fighter and this is (MMA). You've got to pick your opponents apart and being where you think they're the weakest and where you have the greatest advantage."
"I go into fights feeling like I can out-strike anybody, I can out-scramble anybody, I can out-grapple anybody, and I feel like my conditioning is always the best going into fights. I don't think it gives me any less comfort or more comfort to know he's got a little bit of a weakness in wrestling."