Two of Spades Karma Cousin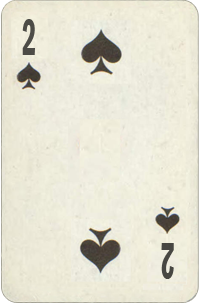 The exact position of the Six of Spades in the Spiritual Spread is Mars in the Neptune line. There will be a fight either for or against the fulfillment of the mission. It is a call to action in the realm of idealism. If you choose to turn it into action for self-interest, bubble-chasing, and schemes for getting rich quickly, you have no one to blame but yourself for the inevitable descent into confusion and final disaster. The Two of Spades replacing the Six of Spades in the Mundane spread represents cooperation. You will find fulfilling in the union and rhythm in the work. It indicates an excellent ability to live strictly on a constructive basis, and to avoid self-indulgence at the expense of work and duty. There is a willingness to serve regardless of remuneration. Three Spades cards in the Neptune line symbolize idealism and a tendency to be thrown out of balance, but underneath you are guided by High Intelligence and blessed with riches, a resurrection is in the making. Only wise know what lies beyond maya, the veil of appearances.
Did it never strike your mind that what every woman says, some women may feel?
- Thomas Hardy