Six of Hearts Karma Card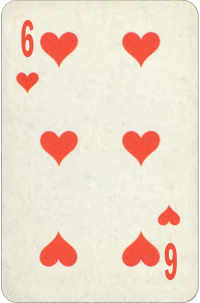 The Heart Suit is the suit of Love. The Six represents the Law and Order. The Six of Hearts is the card of a Soul. It represents the Law of Love - the Christ principle, which itself entails sacrifice and selflessness. It stands for a family - Father-Mother-Child principle, for beauty, harmony, order, and completion. It is union and cooperation, adjustment and responsibility. There are debts to be paid in concerns with love and personal relationships.
Karmic relationships are the essential part of your destiny. The demand is to live by Christ principle of love and to take the full responsibility for any action that concerns others. Even if you aware of your inner quest for Divine Wisdom, you might have an uncomfortable sense of departure from the safe road every time your material ambition takes over the desire of spiritual anchorage. As a result, worry and self-pity inevitably disturb your peace of mind. The security can and must be found - but not in material measures but spiritual advancements.
"We either make ourselves miserable, or we make ourselves strong. The amount of work is the same." -

Carlos Castaneda
In topics:
make
|
work
|
amount
|
same
|
Hermit Quotes
|
Six of Hearts Quotes
|
---