Seven of Diamonds Karma Card
Testing your faith in the abundance of the universe. Overcoming attached attitudes toward money and other values. Low side: losses in any values-related areas. High side: Transformation of fears and attachments into fearlessness and personal freedom.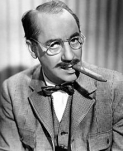 I think women are sexy when they got some clothes on. And if later they take them off then you've triumphed. Somebody once said it's what you don't see you're interested in, and this is true.
- Groucho Marx