Jack of Clubs Karma Card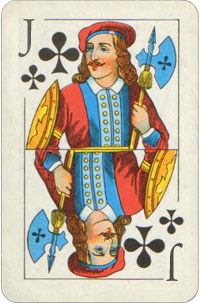 The best qualities of the Jack of Clubs is reason and logic. When Jack of Clubs is the karma card, the first step is in the right direction of mental attitude. Jack of Clubs is not always a clear thinker and may be quite indolent and "sloppy." This karma card gives a high memory capacity, but also the tendency to be untruthful.
Sure, I suffered a lot. But it's not like the end of the world and it's not who I am. I lead quite a pleasant life and I'm able to divorce a perceived reality from my actual experience of life.
- Ben Affleck