Five of Clubs Karma Card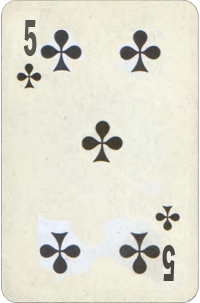 Five of Clubs indicates restlessness, changeability, and dissatisfaction with the type of education sought and the decisions made. This, however, prevails only when there is insufficient knowledge to support the judgment. The Five of Clubs may indicate nothing but a wholesome desire for change in the name of progress. There is no lack of activity - all Four of Clubs people are progressive and active. Five of Clubs Karma card gives a desire to experiment in mental realms, and "divine discontent" with the knowledge acquired - and an eagerness to find something definite and stabilizing. As the character develops, wisdom and experience correct this fault - if fault it is - and the majority make a valuable contribution to literature, philosophy, and education in general.
Often you don't know whether a woman is friend, enemy or lover until it is too late. Sometimes, she is all three.
- Robert Jordan