DeLux Love Report
Basic Compatibility Test
Purpose
Love, Romance, Passion
Love, Friendship, Bussiness, Family
Compatibility Chart
Compatibility Scores
Long-term Indicators
Leadership Scores
Free Initial Test
Connections
100%
100%
Gender
Only Male + Female
Any
Each connection
Detailed description
Connections are grouped
Impact of Connections
Personal Traits
Numerology Test
Numerology Timeline
Price
Test URL
Delux Love Report
Compatibility Test
He Loves Me Not?
How do you know if you are marrying the right person?

For Love or Money? Tough Call?
"So Much Valuable Information In A Very Easy Step-by-Step Format..."

Why Is He So Critical Of Me?
Is He Is The One?
Is He Is More Than Just a Friend?

Why Is He So Difficult To Commit?
"I Haven't Seen Anything Like This - Anywhere!..."

Is He What He's Saying?
Except now you can.

You can learn as much as you like, or just get quick insights or how you relate to someone.
The information you get is limitless!
Find Out What Are Your Connections To:
Your husband or your boyfriend
Your child
Your friend
Your business partner
Your mother or father
Your sister or your brother
HOW DOES IT WORK?
WHAT IT IS NOT:
It is not traditional astrology
It is not traditional numerology
It is not psychology
It is not a lucky guess
It is not a psychic prophecy
Are You Born On December, 31?
In Business
At Work
With Family Members
To Choose a Lawyer
To Choose a Doctor

"Yet, those emblems that were help too sacred to be touched with profane hands, and were looked upon with awe by priest and neophyte, were destined to be trampled upon by coming nations, and become a byword and reproach in high places."
"And when the Seven Thunders had uttered their voices, I was about to write; but I heard a voice from heaven, saying unto me, seal up those things, uttered by the Seven Thunders, and write them not."

"And I took a little book out of the Angel's hand and devoured it; and to my taste it was sweet as honey; but as soon as I had devoured it, it became bitter into my inside."

"And he said unto me, you must prophecy again before many peoples and nations and tongues and kings."

Revelation X, 4,10 and 11.
"I can't believe how accurate your system works! Wow! I had my astrology reports done, but there is too much irrelevant information. Your system is so cool. I'm having a blast! Recommended to all friends. "

Donna, NY
We all know Pythagoras theorem from the basic Geometry. Pythagoras spent 22 year in the East to gain an access to the arts and sciences of the priest and Magi, to whom all the knowledge of science was then confined.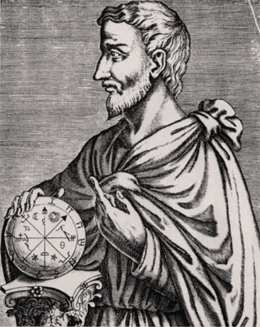 "The Copernican system, which is now universally adopted by all mathematicians and astronomers, is not only the true system, but also the oldest system in the world. It was introduced in Greece and Italy about 500 years B.C. by Pythagoras. But from the accounts of his disciples, it is evident that he had received it from more enlightened nations, who had made greater advances in the science of astronomy."
Ryan's Astronomy, New York, 1831
As stated by Olney Richmond, first of all recorded metaphysicians in science of ancient symbolism of cards, describes Atlantis as civilization where astrology "reached its greatest development, and the knowledge formulated was passed over to Egyptians." According to his work, the organization that kept and preserved the secret was called the order of Magi.
"The original cards were carved on ivory tablets and used exclusively by the priests in the temples in Atlantis. Later, the tablets were moved to Egypt to help preserve the human race."
Olney Richmond
From the time of Atlantis... came the smallest book that fit in a palm of your hand. The book that reveals your past and your future. The book that holds the knowledge of many generations. Repressed and excommunicated from a church, this little book was preserved by humans in a way it was 20,000 years before the birth of Christ. In addition to the great length of time that has elapsed since its invention, the ancient and secret order that alone understood and used this mystic book, diligently guarded the sacred emblem from the knowledge of the outside the worlds.
"There is happiness and there is rightness. I can't teach you how to be happy. But I know how it feels when you do the right thing."

Jennifer Allen
"I can't describe how lucky I felt when I found your system. I calculated my ex-s, my mother, my dad, my son and all of my friends and relatives. I lived with my ex husband for almost five years, but truly I never felt comfortable. He is actually a good, decent man, and no one understood why I was divorcing him. When I opened our report, I saw that the intensity of our relationships was two points higher than the attraction between us. I was stunned! Our level of criticism was extremely high! Yes, I never criticized anyone so strongly in my life. On the other hand, he is a guy, who doesn't talk much, but he use to give me "this look", that made me feel so miserably stupid. Well, from now on I am not getting to date anyone until I find out his birth date! "

Elizabeth, WY